Contact Probes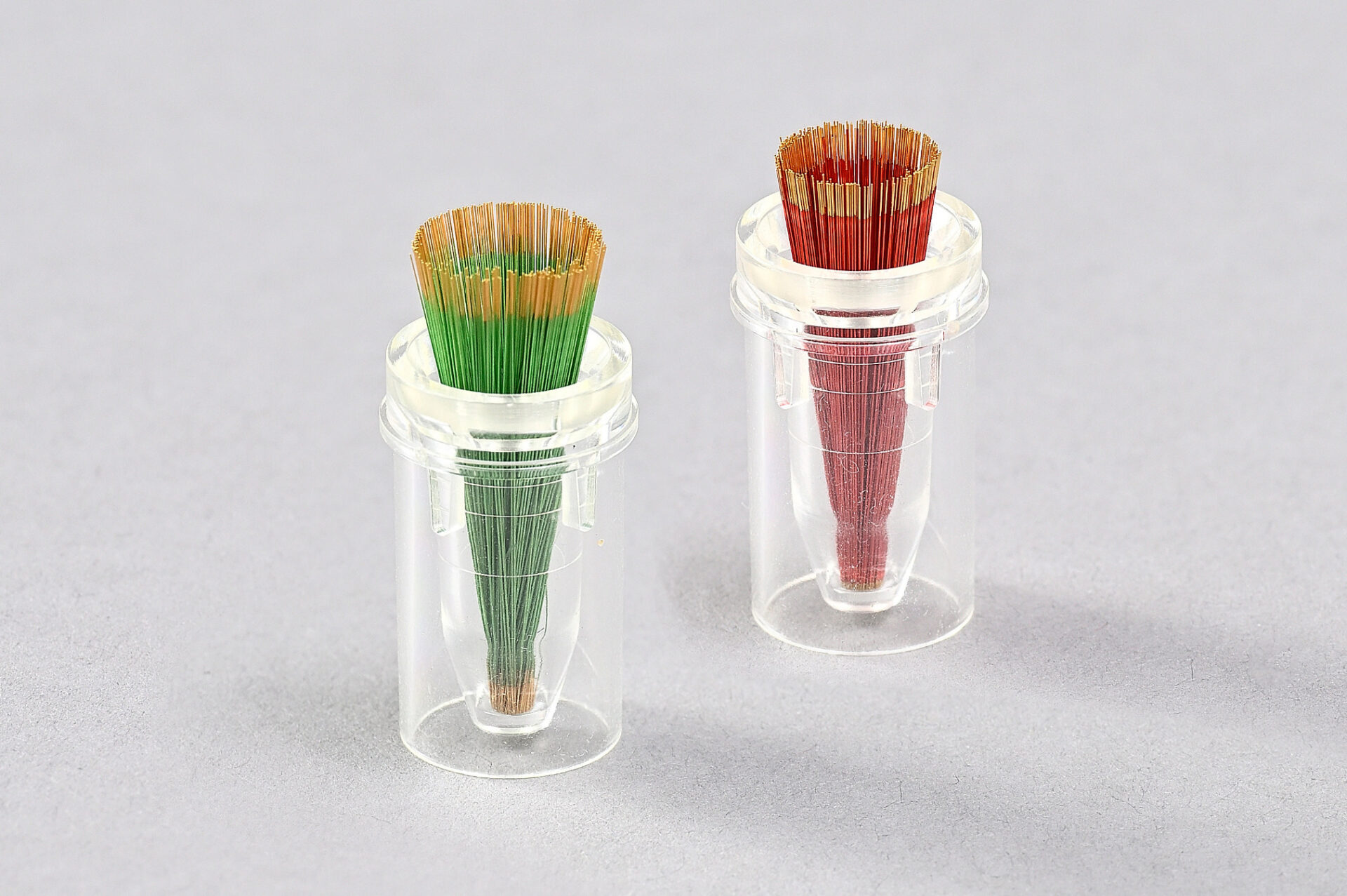 An ultra-fine diameter wire probe suitable for inspecting electronic components with narrow-pitch electrodes.
Palladium alloys, copper-silver alloys, tungsten, rhenium tungsten, beryllium copper, etc. are used for the conductors.
Compared to spring type or cantilever type probes, this probe pin is better suited for narrow pitch and area arrays associated with higher integration.
There are few contact points and contact resistance is stable.We have also added a new contact probe that uses palladium alloy as the conductive material.
conductor

tungsten
rhenium tungsten
beryllium copper
Palladium alloy
copper silver alloy

coating

Polyurethane resin (UE)
Polyesterimide resin (EI)
Polyester resin (PE)
Polyamideimide resin (AI)

Conductor wire diameter
0.02mm to 0.110mm *Please contact us for other dimensions.
Conductor total length
4.5~30mm *Please contact us for other dimensions.
Features
Using our unique manufacturing method, we are able to perform tip processing on extremely small parts.We specialize in ultra-thin diameter and short overall length probes.
Our unique coating manufacturing method and peeling manufacturing method have achieved excellent insulation properties and a sharp coating interface.In addition, special surface treatment improves the lubricity of the insulation coating surface.
Palladium alloy has the characteristic that the conductor is resistant to oxidation, resulting in improved contact resistance stability.Ideal for semiconductor inspections where oxidation is averse. We can handle diameters as small as 30μm.

Use
Continuity test of IC package board
Continuity testing of narrow pitch pattern printed circuit boards
Liquid crystal panel continuity test
Continuity inspection of various connectors
Kelvin resistance measurement of multilayer board (detection of false contact)
For semiconductor wafer inspection
Extra-fine plunger for spring probe, etc.
Construction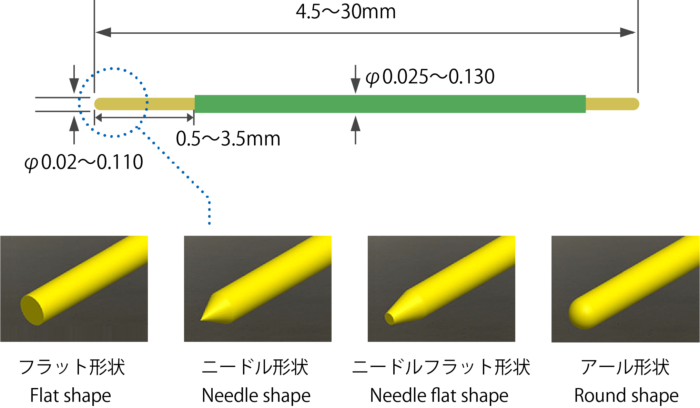 Product catalog
For more information on contact probes, please download the catalog below.