High Frequency Cable Assemblies
About part numbers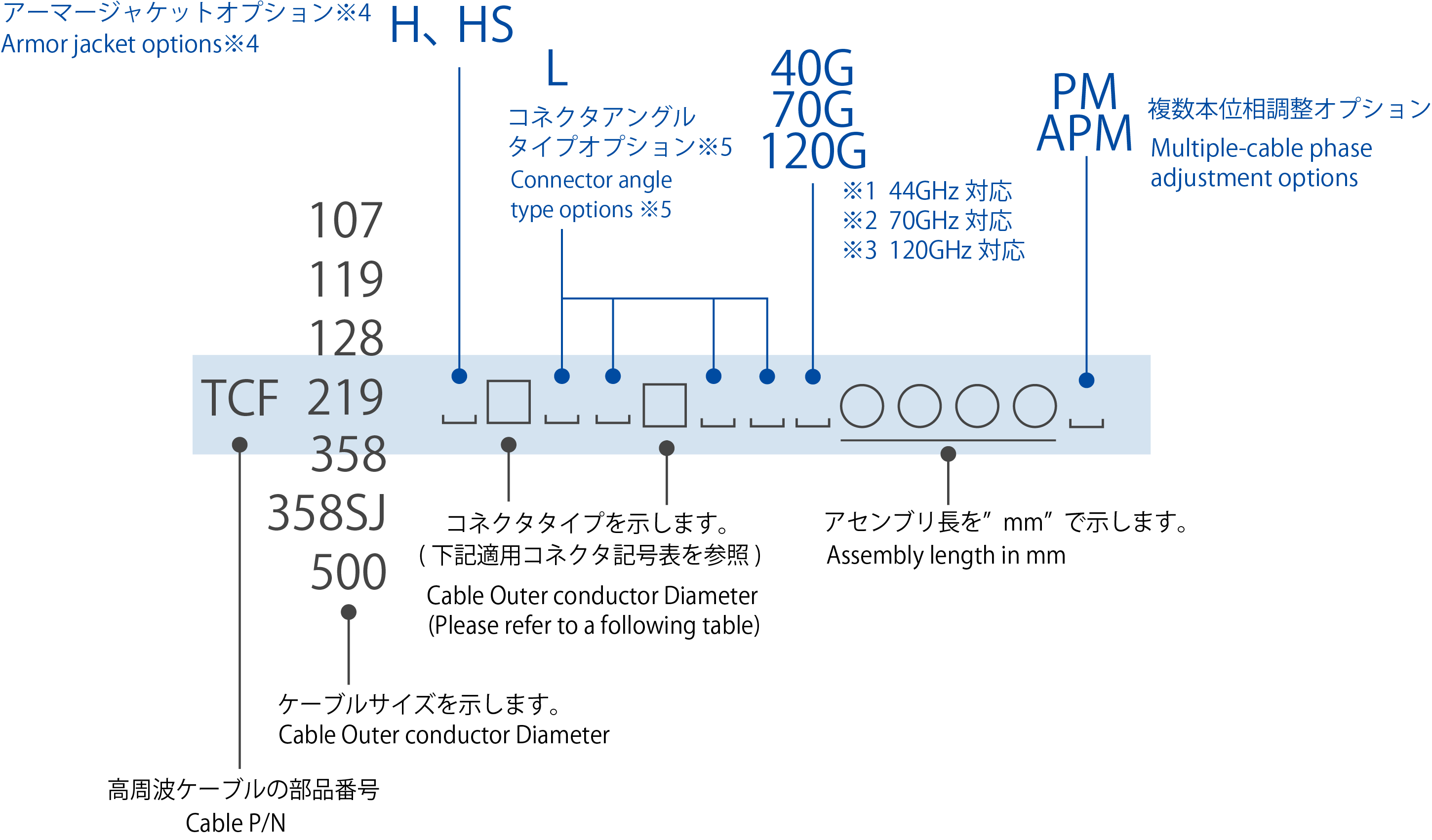 *For detailed specification of special specification products such as absolute phase specification and angle product bending direction specification, please feel free to contact our sales department as specifications need to be determined after a meeting each time.
*4 For TCF119 and TCF107, HS armor is the standard specification, so it is not necessary to describe it.
*5 If the angle is other than 90°, please specify the specified angle by adding parentheses after "L". Example: L (45)
Applicable connector symbol table
A

B

D

E

F

G

K

M

SMA-Plug
SMA-Jack
N-Plug
N-Jack
3.5mm - Plug
3.5mm - Jack
2.92mm - Plug
2.92mm - Jack
K44G
M44G
Q
R
T
T70G *
U
U70G *
2.92mm - Plug
2.92mm - Jack
2.4mm - Plug
2.4mm - Jack
1.85mm - Plug
1.85mm - Plug
1.85mm - Jack
1.85mm - Jack
X
Y
X120G
Y120G
1.0J
ZP
ZJ
1.0mm - Plug
1.0mm - Jack
1.0mm - Plug
1.0mm - Jack
1.0mm - Jack
0.8mm - Plug
0.8mm - Jack
*2.92mm connectors are also called "K connectors" and 1.85mm connectors are also called "V connectors."
NOTE
A version with reinforced cable part is available.Please specify by adding the symbol "H, HS, SJ" after the cable size.
A version with an angled terminal connector is available.For right angle (standard), please specify by adding the "L" symbol after the connector type symbol.
For other angles, please add (??) (?? is an angle) after the "L" symbol and specify "L(??)".
Example: For TL(45) 1.85mm plug 45 degree type, if the terminal connector is angled type, the angle of each terminal, and if both ends are angled type, the direction etc. must be determined in advance.
Please inquire in detail.
For applications where skew is a problem in digital transmission, etc., we offer a phase adjustment option to align multiple electrical lengths.Please specify by adding "PM" or "APM" symbol after the assembly length. →Link to phase adjustment product page
Different types of connectors and male and female connectors (plugs, jacks) can be combined as long as they are compatible with each cable size. (Example: TCF280 cable with 2.92mm plug connector on one end and 2.4mm jack connector on the other end) →Link to standard specification connector/cable combination table →Link to highly flexible armor specification connector/cable combination table
If you have any other questions, please feel free to contact us.
| | |
| --- | --- |
| TCF280RK700 | 2.4mm straight jack on one end, 2.92mm straight plug on one end, total length 700mm assembly using TCF280 cable |
| TCF119XY300 | Armored one end 1.0mm straight plug, one end 1.0mm straight jack, total length 300mm assembly using TCF119 cable |
| TCF119XY300PM | In-lot relative phase adjustment assembly for the above assembly |
| TCF107ZPZJ100 | Armored one end 0.8mm straight plug, one end 0.8mm straight jack, total length 100mm assembly using TCF107 cable |
| TCF358FF300PM | In-lot relative phasing assembly with 3.5mm straight plug on both ends, total length 300mm using TCF358 cable |
*1. 44G *2. 70G *3. Model number of assembly with connector compatible with 120G
| | |
| --- | --- |
| TCF280KM44G1000 | 2.92mm plug – 44GHz compatible assembly with 2.92mm jack total length 1000mm |
| TCF219HSTU70G1000 | 1.85mm plug - 1.85mm jack cable part soft armored 70GHz compatible assembly with total length of 1000mm |
| TCF119XY120G100 | 1.0mm plug - 120GHz compatible assembly with 1.0mm jack total length 100mm |
*4. Model number of 0.8mm plug-1.0mm jack assembly using 125GHz compatible TCF119 cable
| | |
| --- | --- |
| TCF119ZP1.0J130 | 130mm long 125GHz assembly with TCF119 cable terminated with 0.8mm plug to 1.0mm jack Please contact our sales department regarding this assembly. |
*5. Model number of assembly with angle type connector
| | |
| --- | --- |
| TCF219 TLU 1200 | Assembly with 1.85mm right angle plug connector on one end, 1.85mm straight jack connector on one end, total length 1200mm using TCF219 cable |
| TCF219TL(45)U500 | Assembly with 1.85mm 45° angled plug connector on one end, 1.85mm straight jack connector on one end, total length 500mm using TCF219 cable |